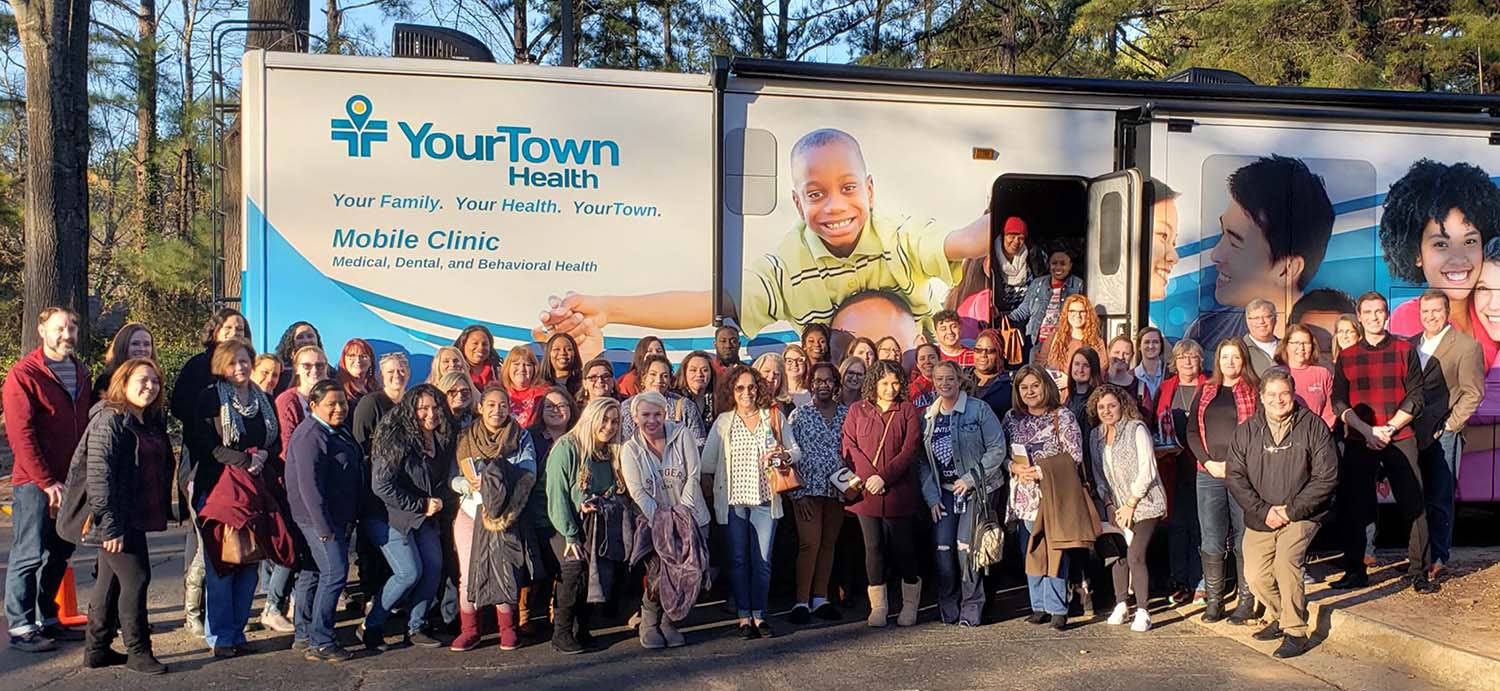 YourTown Health's network of seven non-profit Community Health Centers serves the communities of Meriwether, Pike, Lamar, Carroll, Coweta, and South Fulton counties.
Our Community Health Centers are unique in that they are located in areas facing limited access to affordable, quality healthcare and have a large number of citizens who are uninsured or underinsured.
As such, our mission is to provide comprehensive preventative, curative, and life-enhancing services in a non-judgmental and compassionate environment. Our doctors, physician assistants, nurse practitioners, and support staff are able to provide you and your family with quality, comprehensive medical care every step of the way. We offer pediatric and adolescent care, family practice and internal medicine, obstetrics and gynecology, dentistry, and pharmacy services. Our Community Medical Centers also provide immunizations, diagnostic testing and laboratory services, school and work physicals, and referrals to qualified specialists.
YourTown Health History
YourTown Health—formerly Palmetto Health Council, Inc.—was formed in 1978 by a group of citizens in Palmetto, Georgia, who were tired of living in a town without its own physician.
For thirteen years, the residents had to drive to Newnan for a medical appointment or to Grady Hospital in Atlanta for hospital services. The distances community members had to travel for medical care were a great hardship, so with a grant under the Rural Health Initiative Program, YourTown Health began an 18–month long process to do the groundwork and apply for federal funding to open its own medical center. Their hard work brought in the funds to open the Community Medical Center of Palmetto in April 1980.
Even before the clinic doors opened, though, YourTown Health began working to help its community's citizens. Dr. Virginia Floyd, the center's first physician, drove around town in her yellow VW and made house calls to residents listed on the sick lists found in local churches' Sunday bulletins. She went to the local elementary schools to educate the children about good health and even helped one school to host its own Health Fair, where the kids performed screening tests for their parents.
YourTown Health's mission to serve its community was solidified by its very first patient, who told Dr. Floyd, "We need someone to take care of us as a community." The entire organization, everyone from the Board of Directors to the front line staff, has sought to take care of the communities it serves. Since 1980, YourTown Health has grown from one to seven Community Medical Centers. It merged with Pike County Primary Health Care in 1996, opened an office in Hogansville in 2007, another in Carrollton in 2008, and two more in Greenville and Manchester in 2009. YourTown Health has also expanded its services to provide primary care, obstetrics and gynecology, dental care, and pharmacy. As PHC continues to grow, it will build upon the strong foundation it has laid by taking care of the communities it serves.
In 2013, to better describe its services, Palmetto Health Council was renamed to YourTown Health.
Mission Statement
YourTown Health will be the model of excellence for improving the total health status of the communities it serves. All of our employees will provide comprehensive preventative, curative, and life-enhancing services in a non-judgmental and compassionate environment.
Core Values
As employees of YourTown Health, we commit to fostering an environment that is non-judgmental and adheres to the following values:
Integrity – We will say what we will do and do what we say.
Honesty – We will be truthful in all things.
Compassion – We will have genuine concern for others and their feelings.
Respect – We will treat others as we would want to be treated.
Dedication – We will be committed to the organization by being dependable and supportive of each other.