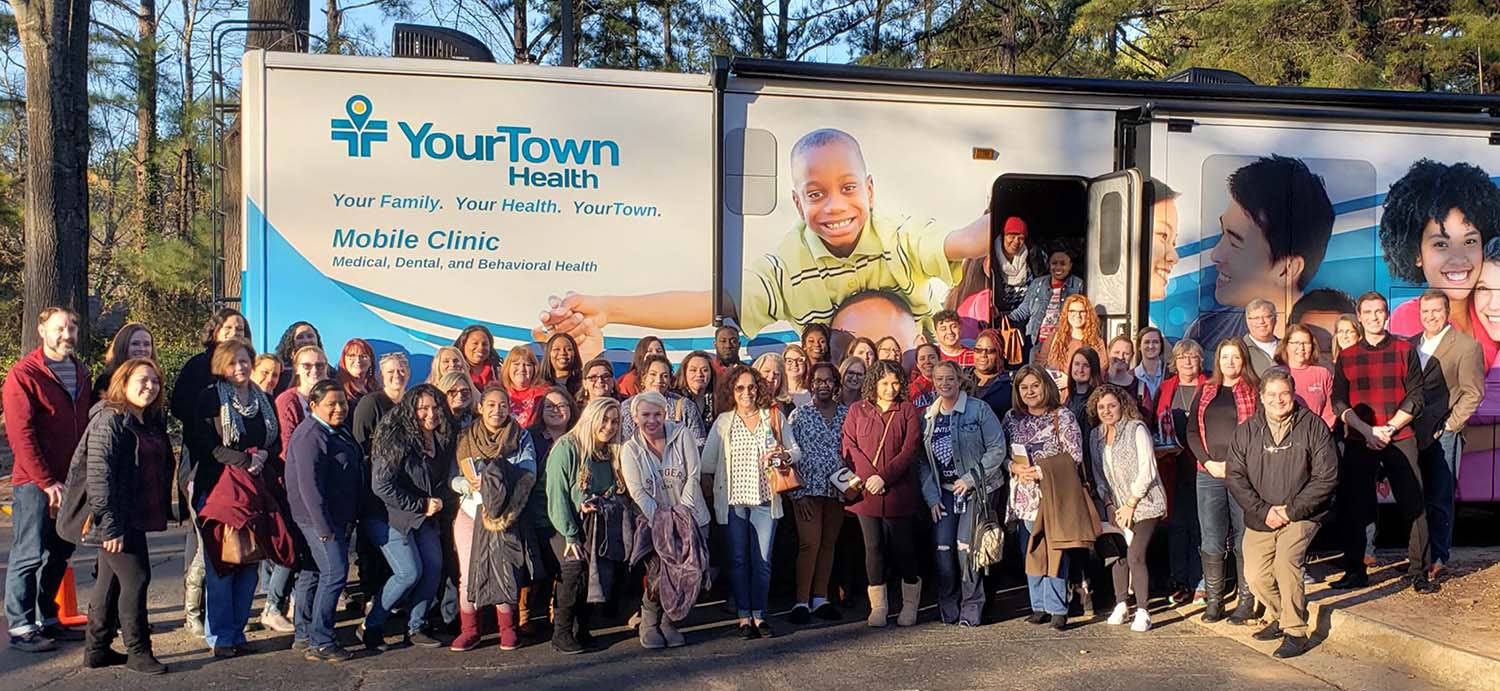 Frequently Asked Questions
I don't have health insurance. Can you help me?
YourTown Health exists to provide quality health care for people who don't have health insurance, so we absolutely can help you. If you don't have health insurance, you may be eligible for the Sliding Fee Scale. This scale discounts your bill based on your household income and number of people in your household. The scale is based on the Federal Poverty Limits, which are updated every year. Additionally, if you have Medicare or private insurance and have difficulty paying your co-pays, you can apply for the Sliding Fee Scale to have those co-pays reduced. As of September 2023, our Sliding Fee Scale nominal is zero dollars. If you would like more information about this, please call your Community Medical Center.
Do you provide dental services?
Yes. We provide a full range of dental services at our Palmetto office. You don't have to be a medical patient of ours to come see us, but we do offer medical services at the same location.
Our Sliding Fee Scale will work with our dental services just like our medical services, except the Sliding Fee Nominal charge is $40 per dental office visit. If you would like to make an appointment, please contact our Palmetto location at 770-463-4644.
How does the Sliding Fee Scale work?
The Sliding Fee Scale bases the amount you pay for services on your household income. This is mostly for the uninsured, but even those with Medicare and private insurance can use it to reduce their co-pays. We use your total household income and number of people in your household to determine where you fall on the Sliding Fee Scale. If you qualify for the Sliding Fee Nominal, you receive no charge for each medical office visit. Patients with higher incomes may pay 25%, 50%, 75%, or 100% of the charges. For example, if the charges for your office visit total $200, but you qualify for the Sliding Fee Scale at 25%, you are only charged $50. If you qualify for the Sliding Fee Nominal, you will not be asked to pay. The Sliding Fee Nominal charge for dental services is $40.
Do I have to pay my annual Medicare deductible when I see your providers?
No. Because our Community Medical Centers are designated as Federally Qualified Health Centers, we are not required to collect your deductible. We can waive your deductible all together. This means by getting your health care from one of our CMCs, you get to keep the $150 deductible in your pocket. Only Community Medical Centers are able to provide this service.
Can I be seen at a Community Medical Center even if I don't live in the same town or county where it's located?
Yes. Our CMCs will take patients from anywhere.
I'm a new patient. What information do I need to bring with me for my first appointment?
Please bring a picture ID, a piece of mail to verify your mailing address, and your Medicaid, Medicare, or insurance card. If you need to apply for the sliding fee payment scale, please also bring proof of income.
What is considered proof of income?
The following list includes all information that is considered proof of income. The most common forms of proof are placed at the beginning of the list.
Earned Wages—pay stub, notarized letter from your employer, or tax return
Business earnings—tax return, net receipts
Social Security Benefits
Supplemental Security Income (SSI)
Child Support/Alimony
Retirement/Pension Benefits
Unemployment Compensation
Strike/Union Benefits
Veterans' Payments
Public Assistance-Food Stamps
Emergency Assistance Payments
Non-Federally Funded General Assistance
Military Family Allotments
Insurance/Annuity Payments
College/University Scholarships—Grants, Fellowships
Dividends/Interest Payments
Rental Income
Net Royalties
Receipts from Estates or Trusts
Gambling/Lottery Winnings
What insurances do you accept?
The Affordable Care Act has resulted in many health insurance changes. If you are signing up for insurance on the exchange, please note, that YourTown accepts The Peach State Ambetter.
We also accept:
Medicaid
Medicare
PeachState
AmeriGroup
Wellcare
First Health
Aetna
United
Blue Cross PPO
Great West
Principle Edge Network
Care Improvement Plus
Humana
CHAMPUS TriCare
Beech Street Network
Humana
Today's Option by Pyramid Life
American Progressive
Secure Horizons by United HealthCare
Why did I get a bill?
If you have secondary insurance, sometimes the claim hasn't been paid before bills go out. If you have any questions, please call the corporate office at 404-929-8824.
Will you bill my secondary insurance?
Yes, as long as the CMC has your correct information, we will bill your secondary insurance as courtesy. However, if your insurance does not pay, you are responsible for the remaining charges.
Where do I call for billing questions?
I'm having a hard time affording my medications. What are my options?
YourTown Health is committed to helping all our patients get the medications they need. We are opening our own in-house pharmacy that can take advantage of special pricing available only to Community Medical Centers. We can then pass these savings on to you. Also, we have a full-time nurse who manages our Patient Assistance Program. If you have any concerns about affording your medications, please talk to your provider or nurse.
I have a medical question, but the CMC is closed. What can I do?
All of our CMCs have after hours coverage by an on-call provider. Just call the CMC office number and you will be directed to call the after hours message service. They will get your message to the on-call provider.
Educational Websites
Visit healthfinder.gov for quick and easy information and tools to help you stay healthy.
For more specific information on health topics, please visit the following sites: